Terms of Use
In using this website you are deemed to have read and agreed to the following terms and conditions:
The following terminology applies to these Terms and Conditions, Privacy Statement and Disclaimer Notice and any or all Agreements: "Client", "You" and "Your" refers to you, the person accessing this website and accepting the Company's terms and conditions. "The Company", "Ourselves", "We" and "Us", refers to our Company. "Party", "Parties", or "Us", refers to both the Client and ourselves, or either the Client or ourselves. All terms refer to the offer, acceptance and consideration of payment necessary to undertake the process of our assistance to the Client in the most appropriate manner, whether by formal meetings of a fixed duration, or any other means, for the express purpose of meeting the Client's needs in respect of provision of the Company's stated services/products, in accordance with and subject to, prevailing US Law. Any use of the above terminology or other words in the singular, plural, capitalisation and/or he/she or they, are taken as interchangeable and therefore as referring to same.
PRIVACY STATEMENT
We are committed to protecting your privacy. Authorized employees within the company on a need to know basis only use any information collected from individual customers. We constantly review our systems and data to ensure the best possible service to our customers. Parliament has created specific offences for unauthorised actions against computer systems and data. We will investigate any such actions with a view to prosecuting and/or taking civil proceedings to recover damages against those responsible
CONFIDENTIALITY
We are registered under the Data Protection Act 1998 and as such, any information concerning the Client and their respective Client Records may be passed to third parties. However, Client records are regarded as confidential and therefore will not be divulged to any third party, other than if legally required to do so to the appropriate authorities. Clients have the right to request sight of, and copies of any and all Client Records we keep, on the proviso that we are given reasonable notice of such a request. Clients are requested to retain copies of any literature issued in relation to the provision of our services. Where appropriate, we shall issue Client's with appropriate written information, handouts or copies of records as part of an agreed contract, for the benefit of both parties.
We will not sell, share, or rent your personal information to any third party or use your e-mail address for unsolicited mail. Any emails sent by this Company will only be in connection with the provision of agreed services and products.
EXCLUSIONS AND LIMITATIONS
The information on this web site is provided on an "as is" basis. To the fullest extent permitted by law, this Company:
excludes all representations and warranties relating to this website and its contents or which is or may be provided by any affiliates or any other third party, including in relation to any inaccuracies or omissions in this website and/or the Company's literature; and
excludes all liability for damages arising out of or in connection with your use of this website. This includes, without limitation, direct loss, loss of business or profits (whether or not the loss of such profits was foreseeable, arose in the normal course of things or you have advised this Company of the possibility of such potential loss), damage caused to your computer, computer software, systems and programs and the data thereon or any other direct or indirect, consequential and incidental damages.
This Company does not however exclude liability for death or personal injury caused by its negligence. The above exclusions and limitations apply only to the extent permitted by law. None of your statutory rights as a consumer are affected.
AVAILABILITY
Unless otherwise stated, the services featured on this website are only available within the United States, or in relation to postings from the United States. All advertising is intended solely for the United States market. You are solely responsible for evaluating the fitness for a particular purpose of any downloads, programs and text available through this site. Redistribution or republication of any part of this site or its content is prohibited, including such by framing or other similar or any other means, without the express written consent of the Company. The Company does not warrant that the service from this site will be uninterrupted, timely or error free, although it is provided to the best ability. By using this service you thereby indemnify this Company, its employees, agents and affiliates against any loss or damage, in whatever manner, howsoever caused.
LOG FILES
We use IP addresses to analyse trends, administer the site, track user's movement, and gather broad demographic information for aggregate use. IP addresses are not linked to personally identifiable information. Additionally, for systems administration, detecting usage patterns and troubleshooting purposes, our web servers automatically log standard access information including browser type, access times/open mail, URL requested, and referral URL. This information is not shared with third parties and is used only within this Company on a need-to-know basis. Any individually identifiable information related to this data will never be used in any way different to that stated above without your explicit permission.
COOKIES
Like most interactive web sites this Company's website  uses cookies to enable us to retrieve user details for each visit. Cookies are used in some areas of our site to enable the functionality of this area and ease of use for those people visiting. Some of our affiliate partners may also use cookies.
LINKS FROM THIS WEBSITE
We do not monitor or review the content of other party's websites which are linked to from this website. Opinions expressed or material appearing on such websites are not necessarily shared or endorsed by us and should not be regarded as the publisher of such opinions or material. Please be aware that we are not responsible for the privacy practices, or content, of these sites. We encourage our users to be aware when they leave our site & to read the privacy statements of these sites. You should evaluate the security and trustworthiness of any other site connected to this site or accessed through this site yourself, before disclosing any personal information to them. This Company will not accept any responsibility for any loss or damage in whatever manner, howsoever caused, resulting from your disclosure to third parties of personal information.
COPYRIGHT NOTICE
Copyright and other relevant intellectual property rights exists on all text relating to the Company's services and the full content of this website.
This Company's logo is a registered trademark of this Company in the United States and other countries.
COMMUNICATION
We have several different e-mail addresses for different queries. These, & other contact information, can be found on our Contact Us link on our website or via Company literature or via the Company's stated telephone, facsimile or mobile telephone numbers.
GENERAL
The laws of Louisiana govern these terms and conditions. By accessing this website you consent to these terms and conditions and to the exclusive jurisdiction of the US courts in all disputes arising out of such access. If any of these terms are deemed invalid or unenforceable for any reason (including, but not limited to the exclusions and limitations set out above), then the invalid or unenforceable provision will be severed from these terms and the remaining terms will continue to apply. Failure of the Company to enforce any of the provisions set out in these Terms and Conditions and any Agreement, or failure to exercise any option to terminate, shall not be construed as waiver of such provisions and shall not affect the validity of these Terms and Conditions or of any Agreement or any part thereof, or the right thereafter to enforce each and every provision. These Terms and Conditions shall not be amended, modified, varied or supplemented except in writing and signed by duly authorised representatives of the Company.
NOTIFICATION OF CHANGES
The Company reserves the right to change these conditions from time to time as it sees fit and your continued use of the site will signify your acceptance of any adjustment to these terms. If there are any changes to our privacy policy, we will announce that these changes have been made on our home page and on other key pages on our site. If there are any changes in how we use our site customers' Personally Identifiable Information, notification by e-mail or postal mail will be made to those affected by this change. Any changes to our privacy policy will be posted on our web site 30 days prior to these changes taking place. You are therefore advised to re-read this statement on a regular basis
These terms and conditions form part of the Agreement between the Client and ourselves. Your accessing of this website and/or undertaking of a booking or Agreement indicates your understanding, agreement to and acceptance, of the Disclaimer Notice and the full Terms and Conditions contained herein. Your statutory Consumer Rights are unaffected.
Immaculate Conception of the Blessed Virgin Mary
Mass Schedule for the Immaculate Conception of the Blessed Virgin Mary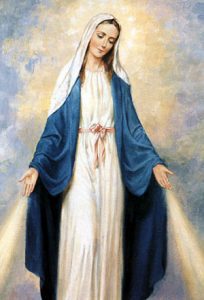 + Thursday, December 7th (Anticipated Mass) 
4:00pm at Belaire Cove Chapel
4:00pm at Sacred Heart Church
+ Friday, December 8th (Holy Day of Obligation) 
6:30am, 12:10pm and 5:30pm at Sacred Heart
6:00pm at St. Joseph
Parishioner Registration
We have mailed out census forms to all of our registered parishioners.
Please fill out the form and return it to the rectory! You can mail it, drop it in the collection basket, drop it off at the rectory, email or fax it.
If you receive more than one mailing, please let us know so we can consolidate the information.
If you did not receive one in the mail, then you are not registered with us or we do not have your current mailing address.
Forms are available at the doors of the church, in the church office or just click on the link below!
Click here to download our Parishioner Registration form! 
THANK YOU FOR YOUR HELP!!!
What's Happening Around the Diocese?
+ Divorce Recovery – Are you or someone you know suffering or has suffered from the breakdown of their marriage and family? Our Lady of Fatima Church will provide a 12 week series of the Catholic Divorce Support program. Topics that will be discussed are shock, denial, anger, grief, forgiveness, money, dating, remarriage, and so much more. For more information, please contact our facilitator Greg Broussard at 337-412-0349.
+ Natural Family Planning classes: Please contact Leslie Johnson to sign up at Jljohnson786@gmail.com or (337)331-5598.
+ New Life Pregnancy Center: Support the Center, buy a yard sign and help advertise the Center! Signs are $10.00 each — 100% goes to support the Center
Your generous donation will help the most helpless in our society, the unborn. Help us lighten the burden of an unexpected pregnancy.
(337) 468-2312
P.O. Box 194, Mamou, LA 70554

Religious Education Program
If you have any questions or concerns regarding CCD, please contact the Director of Religious Education: Tiffany Tate Alfred  Phone: 363.5167  Email: olqasdre@centurytel.net
Click on the link below to download the CCD registration form:
+ Grades 9, 10, 11/Confirmation
Parish Announcements
Sacred Heart of Jesus Parish Announcements
+ Church Office Hours:
8:00am -4:00pm Monday – Thursday
8:00am – 12:00 noon on Fridays
(closed 12:00-1:00pm for lunch)  
Venmo
Sacred Heart Church now has a Venmo account!
You can easily make your donations using your phone anytime and anywhere!
Just scan the QR code below!
Then put how much you want to donate. In the comment section, you can specify what the donation is for (Ex: 1st collection, 2nd collection, ACTS, etc.). You can also put your envelope number in the comment section.
If you have any questions, please call the office!
Parishioners For Life
Parishioners For Life—Motivating Members to Help End Abortion
The Pope on Life
"Every life is sacred! Let us go forward with the culture of life to counter the logic of waste and the declining birth rate; let us be close and together let us pray for the babies who are threatened by the termination of pregnancy, as well as for the people who are at the end of life — every life is sacred! — so that no one may be left alone and that love may defend the meaning of life. Let us recall the words of Mother Teresa: "Life is beautiful, admire it; life is life, defend it!", be it a baby who is about to be born, or a person who is close to death: every life is sacred!"
– Pope Francis, Message for Day of Life, February 5, 2017
Resource Recommendations
The following are resource recommendations from the Diocese Office of Marriage & Family Life:
Divorce & Annulment:
+Catholic Divorce Survival Guide: diolaf.org/divorcerecovery
+Office of Tribunal: diolaf.org/tribunal
+Beginning Experience: beginningexperience.org
Grief/Bereavement:
+ Red Bird Ministries:  Red Bird Ministries is a Catholic grief support ministry that focuses on couples who have experienced the loss of a child of any age by loving them through their loss. Our goal is to help couples living this nightmare to not just survive their loss, but to love them through it by sharing our own experiences and healings, in hopes of helping them to survive and thrive in their marriages and in life. Please contact Kelly Breaux at (337) 223-2019 or at kelly@redbird.love for more information. Visit our website at www.redbird.love.
+ A Catholic Journey Through Grief: diolaf.org/grief
+ Companions Along the Journey (support group, Scott area): (337)654-8917
+ Grief Share (support group, Broussard area): (337)837-1864
+ LA Grief Support Group (New Iberia area): (337)367-8003
+ St. Monica's Society (support group for widowed women, Lafayette area): (337)235-0465
+ Healing House (Hope for Grieving Children): healing-house.org; (337)234-0443
+ Hospice of Acadiana (support group): (337)232-1234
Infertility/NFP:
+ diolaf.org/nfp
+ USCCB webpage on infertility: usccb.org/issues-and-action/marriage-and-family/natural-family-planning/resources/infertility
+ catholic-fertility@yahoogroups.com
Marriage Enrichment:
+ World Wide Marriage Encounter: wwwme.org
+ For Your Marriage: foryourmarriage.org
Mental Illness:
+ National Alliance for the Mentally Ill: name.org
Pregnancy & Infant Loss:
+ elizabethministry.com
+ aplacetoremember.com
+ nationalshare.org
+ maddiesfootprints.org
Struggling Marriages:
+ Retrouvaille Weekend: A program for troubled marriages. The weekend provides a safe setting; encouraging couples to learn communication in marriage in a respectful manner. Visit the website for more information and to register www.helpourmarriage.com.
+ Codependents Anonymous (a fellowship of men and women whose common purpose is to develop health relationships: (337)261-5607
Suicide Survivors:
+ diolaf.org/suicide-survivors
+ Jacob Crouch Foundation: injacobsmemory.org
+ American Association of Suicidology: suicidology.org
+ American Foundation for Suicide Prevention: afsp.org
+ Suicide Awareness Voices of Education: save.org
+ Yellow Ribbon Program (Prevention of Teen Suicide): yellowribbon.org